Occupational Therapy Practitioners as Leaders
Occupational Therapy Practitioners as Leaders
An others-oriented perspective is at the core of most occupational therapy practitioners. Occupational therapy (OT) is a holistic profession built on the ideals of being client centered and helping others live a life they deserve and value, which I believe is the reason many of us fell in love with the profession. Occupational therapists bring a unique, client-focused, occupation based, and holistic perspective to the table. With this viewpoint, we are given a responsibility to employ it in leadership, as it is increasingly valuable to healthcare as a whole.
The unique role we play in healthcare is partly due to the practitioners who have had the inspiring commitment to have a seat at the table among other healthcare professions. The relentless advocacy and professional determination to broaden awareness and inclusion of OT is emphasized through the history of our profession, as well as the events that continue to alter the profession to this day. The achievements throughout these crucial moments were the result of leaders who were willing to pave the way.
Most have played a role of advocating for the profession without knowing when asked, what is OT? Answering this question contributes to the growth of OT by educating others on the domains and contributions it makes, yet occupational therapy continues to find itself in a position in which areas of our profession that are increasingly at risk. From scope of practice, to reimbursement and billing, to productivity rates, the focus of the profession may be jeopardized. These infringements require leadership through individual and organizational efforts, such as those in the Florida Occupational Therapy Association, to maintain our position in the community.
When transitioning from the role of OT student to practitioner, it is important to ask ourselves questions like, can we say we are doing all we can to lead our profession for those behind us? Are we doing all that we can as a profession to lead, not only in our field, but in the greater system that is healthcare? This brings us to actionable steps one can take to help lead our profession. When taking action regarding an under addressed issue or identified gap, (1) be specific about the need or issue and how you will address it, (2) choose carefully who you will ask and adhere to the chain of command as appropriate, (3) consider the time, place, and number of times to ask, and (4) follow up with the relevant parties concerning your ideas. In addition, some examples students can take while still in school include:
Learn about your leadership style. Assessments such as the Myers Briggs Type Indicator, the DISC test, or Style Matters: The Kraybill Conflict Style Inventory assessment can be powerfully revealing in combination and inform you on your value as a leader. You may find that these measures help throughout interactions in roles beyond leadership such as personal relationships, client-therapist relationships, and relationships with coworkers.
Get involved. Whether this is in your program, community, and/or state and national associations. Leadership does not necessarily mean public speaking or leading a team of people. Leadership can include calling a state senator to speak about a legislative issue related to OT, coordinating schedules for a community organization to serve an underserved population, or holding a position within an organization.
Research and discover prospective opportunities. Stay alert and aware of additional doors that may open and pursue opportunities for which you are a fit. Explore the need for leadership in areas you believe are unacquainted. Many wise people in my life have said, "The answer is no until you ask." If you see a need, ask for the chance to address it.
Occupational therapy practitioners have the capacity to lead, and continue to influence the changes within the profession. It is important as students we begin that journey now and decide the type of leader we want to be within the profession as a practitioner. 
Interprofessional Team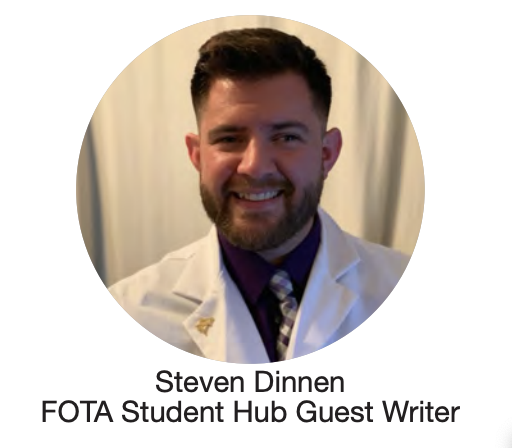 What do an occupational therapist (OT), physical therapist (PT), a speech-language pathologist (SLP), general practitioner, nurse, and social worker have in common? A shared client. This client has gone through a life-alerting circumstance that is now affecting their overall health. Working as a healthcare team, we can help this client overcome their challenges effectively and efficiently.
The question you may be asking is, what does this have to do with us, an occupational therapy graduate school student? The answer is everything. We are the future of the profession, so it is up to us to begin to fill in the gaps we see and I believe one area of change is focusing on the use of interprofessional teamwork. Working successfully within an interprofessional team not only illuminates your skills as a practitioner, but also brings recognition to the profession as a whole.
As a first-year OT student, I have learned about, as well as participated in, certain events, programs, and opportunities that have helped me become more conscious of what embodies an working as an effective interprofessional team, including:
Florida's AHEC Scholars Program
Interprofessional clubs, i.e. organizations at your school
Volunteer opportunities, i.e. medical mission trips
Networking events, i.e. conferences
In conclusion, learning how to work within an interprofessional team is a crucial part of providing client-centered care. The hope is that participating in these events will help facilitate thinking about who will be a part of your interprofessional circle once you graduate, as well as what role you will play as you begin your career.
Occupational Therapy Student in a Pandemic
Being an occupational therapy student can already be difficult to navigate, but it became even more challenging during a pandemic. The world was going through many changes, and my anxiety continued to rise. I was seeing the devastating news across the world while also trying to maintain my attention on my studies. Suddenly, my education became completely virtual. I had to learn assessments, interventions, and other techniques through a screen. I tried to make the most out of it by practicing on family members, watching YouTube videos, researching articles, and reading my textbooks for hours. The never-ending days of staring at my computer were becoming straining on my eyes, back, and overall well-being. All of my Level I Fieldwork experiences became virtual as well. Questions started to fill my brain as I began to worry if I would be good enough for my Level II Fieldwork experiences. Will I pass? Will I still become a great occupational therapist? Will I be able to translate everything I've learned from virtual learning to a hands-on experience?
Despite all of these overwhelming questions and feelings, I realized I needed to remember why I am doing this. As an occupational therapy practitioner I will have the opportunity to improve the quality of life of individuals who may not believe in their own capabilities. I will be able to inspire them to realize their disability does not define them, and educate their families as well, as they are also affected by these life-changing circumstances. By remembering this, it makes all of the work and unexpected transitions worth it.
It has also helped me realize the importance of occupational balance, and I am learning it is okay to take time for myself. We educate our clients on energy conservation techniques, coping mechanisms, and pursuing meaningful occupations, yet we forget to take that advice for ourselves. Burnout is a serious problem faced by many graduate students and practitioners. With the added stress caused by the pandemic, it becomes even more important for us to remember to take time for ourselves in order to refuel.
After a year of not stepping foot on campus, we were finally able to return in March to receive one week of training on all the skills we had learned about virtually, like transfers, splinting, assessments, documentation, and developing treatment plans. I was able to connect my year of studying textbooks, YouTube videos, research articles, and online lectures to a hands-on experience. I now feel more prepared to go on my Level II Fieldwork. While it can still be upsetting to think about how much additional experience I could've gained this past year, I am grateful to be able to continue my education, even though it may look different than what I originally had expected.
Through this pandemic, I have learned to become more resilient, adaptable, flexible, and creative, all of which I will need as an occupational therapy practitioner as I help my clients adapt to changes they are facing. So, always remember your why, maintain occupational balance, and take every opportunity as a learning experience. We will become occupational therapy practitioners.
Perfecting Your Elevator Speech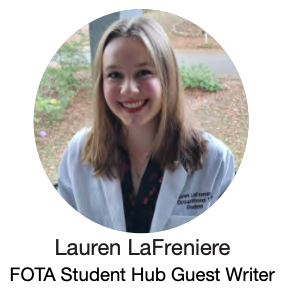 As you continue along the journey of becoming an occupational therapy practitioner, you will be faced with questions regarding who you are in relation to the healthcare team. More than likely, you have already received questions such as, "What is occupational therapy?" or "So you're like a physical therapist?" It is important our profession is recognized as its own separate entity, as we bring a unique skill set to the healthcare team. It is even more important that your future clients understand exactly who you are and what you will be doing. This is when your elevator speech becomes a valuable tool.
An elevator speech is a quick pitch about who you are and what you do. This is your chance to differentiate occupational therapy from other rehabilitation specialists and advocate for the profession. It is important to have a well rounded speech to communicate your profession effectively and efficiently to your clients and other professionals. Here are some tips for developing an effective elevator speech.
Use layman terms.
Not everyone is a medical professional and therefore will not understand certain terms such as "ADLs" or "holistic." Use everyday terms to simplify your definition of OT and reach a greater audience.
Describe OTs role and the settings in which we work.
Be sure to include practice settings in which OTs commonly work in. This is important in highlighting our vast skill sets and adaptability.
Define the word occupation.
Occupation is the focus of our practice and therefore is the most important word to accurately define. It is often misunderstood, as many people associate occupation with the word job. Although this is one of the definitions, it does not help explain the unique skill set of our profession. Describe the domains of occupational therapy and how these occupations relate to everyday activities, such as brushing your teeth and driving a car.
Explain why OT is important.
Occupational therapy plays a vital role in the healthcare team, and your elevator speech should highlight that importance. Explaining the areas in which OT addresses is only the first layer. It is vital we describe how we help people and the impact OT has on our clients. An elevator speech is a living document, meaning it will evolve as you and the profession change. As you begin working with clients and gain experience, your elevator speech will become more refined and depict who you are as a practitioner. Hopefully, this has inspired you to create your own elevator speech; one which will highlight OT and its value in helping people get back to doing.
Share this post: